Forward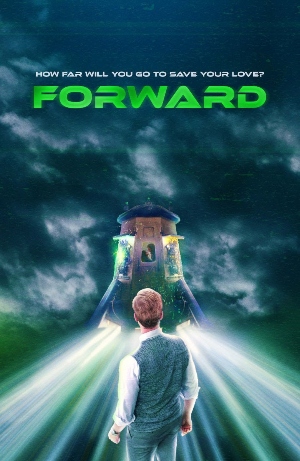 Synopsis
After building an experimental machine, an out of work computer engineer must choose to live in a loveless marriage or risk everything by using a machine to spend time with ghosts from the past.
Dove Review
For those who love a focus on technology in their movies, this is the film for you. A computer engineer named Horace, who is out of work, is in a dead-end marriage, and decides to risk all to visit scenes from the past which might change his tomorrow-and his marriage. In one of the early scenes in the movie he and his wife, Rae, are having a disagreement as she accuses him of flirting with a woman. Horace states he wants things to be as they were. "That was then, this is now," she replies.
His experiments are dangerous, and his brother-in-law Job encourages him to forge ahead, even at great personal risk. "Scientific discovery is risk" declares Job. "You can't have one without the other." But Horace wants to take "calculated risks." The film is a mixture of fast-paced scenes with flashes of light during the experiments, and weird noises. Conversely, it is a bit slow and plodding in parts. In one scene Horace and Rae are eating a silent dinner and the scene lasts nearly a minute.
The film features some nice quotes. In one scene a character quotes Einstein: "A happy man is too preoccupied with the present to worry much about the future." We learn one of the reasons Job is persistent in forging ahead with the experiment is that he believes life is moving along at an accelerated pace, and "I haven't published a serious paper-ever!" Job adds, "All I have to show for my life is a mountain of student debt, a cat that hates me, and a '95 Toyota Corolla." Horace has his own painful memories, including those of a dad that was never there for him. "He would always tell me what I couldn't do," says Horace. "I'm not a gambler, Job, but who am I to tell you what you can't do? When do we start?"
Horace and Rae continue to have their marital strife. Horace is concerned as Job pushes his experiments with his machine full steam ahead. Rae becomes upset with Horace, who replies, "Forgive me for being concerned with my idiot brother-in-law!" Yet there is a funny scene in which Rae tells Horace she hates an orange quilt that they own. "My grandmother made that quilt!" Horace replies, very seriously.
There are scientific terms used in the film such as "computational complexities" and "cognitive function", but not to the point it weighs the film down. There is a powerful scene in which a wise man tells Horace, with concern, that he's moving from physics to metaphysics. "This is spark-of-divine stuff," says Abe. "The last time I checked you're not God Almighty." In an experiment gone awry, Job's DNA is altered, and he winds up with an extra kidney and his heart can't keep up with the changes. Rae is upset with what has happened to her brother, and asks Horace, "Why didn't you stop him?" "Have you ever met your brother?" Horace replies, referring to Job's stubbornness.
Without plot spoiling, Horace tells Rae that he built the construct with the idea of bringing Rae there. But will it be enough to save their marriage? Does Horace abort his plans or do they work out? You will have to watch the movie to find out. The film has earned our endorsement with our Dove seal for Ages 12+. It is not intended for young kids. Some viewers will find the drama of a man fighting for a dead-end marriage to be a worthwhile viewing experience.
The Dove Take
For those who love futuristic and science-fiction scenarios, this is the movie for you!
Info
Company:
Deskpop Entertainment
Industry Rating:
Not Rated