Rubaru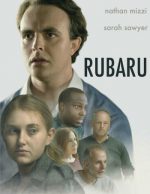 Synopsis
Charles, still a young man, recounts his life story with all its beauty and ugliness. How there can be such joy and such despair in the same moments? As he journeys through his story it becomes evident that something is tormenting him. He can't continue on this way.
Dove Review
Rubaru opens by introducing us to best friends Charles (Nathan Mizzi) and Garret (Thomas Fairell) exchanging well wishes as Garret is about to advance on a new life in the Army. Fast forward to four years later, when Charles and Garret, now out of the Army, and Chloe (Natalie Van Naamen), his girlfriend, move in together. Although a very decent and reliable person, Charles isn't exactly what you would term motivated or ambitious, until his attention is trapped at the theatre by Elizabeth (Sarah Sawyer), a pretty young opera singer. She approaches him after the show and life takes a romantic turn for both.
We follow the lovebirds through fun times and solemn times, culminating in their wedding. But not before Charles meets the friendly family, who kindly and pointedly warn him that should her college grades suffer, he will also suffer. Her brother chimes in with a death threat joke and all is well. So after the honeymoon, when real life and real bills press heavy on the couple, Elizabeth is forced to drop out of school to work. At Thanksgiving dinner, her father Dane (Matthew Rhodes), verbally and viciously attacks Charles for "not providing" and demands he leave. Elizabeth isn't processing this too well and out of her emotional stupor she drops the "I'm pregnant " bomb on the Thanksgiving table. Full on trashcan fire.
While many would consider the pregnancy a gift from God, Elizabeth cowers, seeing it as an obstacle to her freedom. (Oops! Maybe we should have talked about that before saying our vows.) But this is a secular film. No gift from God. Contrariwise Charles forgets, for a moment, his waning popularity and is ecstatic about the thought of being a father. Sadly, in that pinnacle moment, Charles also becomes aware of his wife's flimsy constitution. She refuses to leave with him, peeling back layers of family dysfunction which reveal her gripping allegiance to her father and family of origin.
We are transported back to the present, to Charles, nursing a bottle of booze and contemplating sleeping pills — often a fatal combination. Elizabeth has texted him goodbye. (Really?) His friends have sloughed him off. He has no knowledge of his unborn child. And now he has a pistol to go with the alcohol and pills. Just in time, the landlord (Richard Wilson) appears. He wrestles the gun from Charles, explaining that "life is precious." This is the point of the film apparently, which is a great and true point.
But the film revolves so closely around the marriage and sustenance of Elizabeth's and Charles' relationship that we feel shortchanged, not getting to see more details of their ending. The film breaks off and follows another channel. In a couple of scenes, the writer uses Charles-in-the-present as a voyeur to narrate the story in the flashbacks but doesn't follow through with this method. So it seems odd and out of place. Ultimately, we discover Charles, years later, speaking at his very good friend's funeral service, that of the landlord. Consequently, we get the feeling that a chunk of the story during those years was neglected.
Production-wise, the acting is believable, even in tough scenes, although the flippy nature of Elizabeth's character is extra at times. The score plays well with the actors' situations and the cinematography advances the film nicely, although some actors' staging is slightly awkward. The thought of Elizabeth "getting rid" of the baby is briefly thrown out there like it might be a normal option. The use of alcohol, pills and depiction of a gun during Charles' suicide attempt throw this film out of the ballpark for younger children.
All in all, the message that life is precious is the hero in this film and Rubaru earns the Dove-approved Seal for Ages 12+.
The Dove Take
We journey through the love story of two young people, but are left unfulfilled as the film seems to break off and float downstream into another thematic area.
Content Description
Integrity:
Two unmarried couples talk about living together. Couple rents an apartment together. Main character is very loyal and committed to his wife, but she is made of flimsy material.
Info
Company:
Green Apple Entertainment
Industry Rating:
Not Rated