Home for Christmas (1990 TV movie)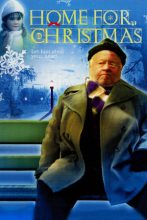 Synopsis
Home for Christmas is a made-for-television film about a young girl who wants a grandfather for Christmas. She chooses an elderly, homeless ex-con (Mickey Rooney) as her pseudo-grandfather and he teaches her and her family — as well as his long-estranged son — the true meaning of Christmas.
Dove Review
The late, great Mickey Rooney starts in this fascinating drama about a homeless man who finds a family. The movie opens with his character, Elmer, sitting on a park bench and looking at a black-and-white photo of a young woman. It is obvious he had a strong connection with her. The opening narrative speaks of a Christmas in which something wondrous happened and, in fact, it does by the conclusion of the film.
A young girl named Amanda (played by newcomer Chantellese Kent), longs for a grandpa in her life. Her father, Reg Spencer (Simon Richards), is about ready to leave from a company Christmas party. He has humorously been given a whip as a Christmas present which he snaps to his employees' delight. After he heads to his car, he sees an old man has broken into his car. The old man, Elmer, gets away with Reg's expensive phone. Elmer only gets $125 for the phone and tells his fellow homeless friends he got ripped off. Although his actions were wrong, he intends to spend the money on his fellow homeless friends. It seems that Elmer is accustomed to looking out for his friends, although his methods aren't scrupulous.
Reg arrives home with his story about his car being broken into, and tells his wife, Barb. He greets his dog, whom he named "Muffy." Humorously, Barb comments on the dog's name, saying, "I'm glad I didn't let you name the kids." Amanda and Justin are their children. Barb, a journalist, comes up with an idea to do a story on the destitute and how they deal with the Christmas season.
In the meantime, Elmer gives a man $20 to give to a friend who needs medicine. He also gives gloves to a man and says he's going to give a hat to another man. Despite his methods, he obviously has a caring heart.
Reg puts off a shopping trip with his wife and kids, and although it's obvious he cares about them, he seems to have his priorities out of order. Barb opens up about her childhood in one touching scene to share with Amanda that her parents abandoned her as a little girl. She cries and Amanda tries to get her to stop.
Amanda tells Barb about the man she met in the park, Elmer, and that he might be a good one for her to interview. "He's not too friendly but he's not mean." So, Barb begins an interview with Elmer. Amanda, meeting with Santa, tells him, "I just want a grandpa." Barb feels good about Elmer, realizing "he's just in a tough spot." So, she invites him to stay in the family basement.
Reg is not happy when he sees Elmer, recognizing him as the man that broke into his car. But he decides to let him stay, mainly due to Barb's persuasive abilities and Elmer thanks him for "not calling the cops."
In a comedic side note in the story, when Reg's neighbor, Sam, sees Elmer working around the house and yard (to pay back for the phone he stole) Sam decides he needs to keep up with Reg and he hires a handyman. The problem is that Sam's handyman takes coffee breaks a lot, eats sandwiches, and has Sam cleaning the windows instead of himself!
As the story moves toward an ending, Elmer spots a photo of Reg's mother, and it happens to be the woman Elmer has a photo of, the woman he was in love with years before. There are a few mysteries in this heartwarming movie that will be resolved by the conclusion. Secrets will be revealed. And the character of Elmer is portrayed as a man who turns a corner in his life, and finds a fresh start.
The movie focuses on themes of forgiveness, fresh starts, and the power of love. It has earned our Dove seal for All Ages.
The Dove Take
This heartwarming Christmas story can be enjoyed by every member of your family and will brighten the holidays with its captivating story of love and forgiveness.
Content Description
Integrity:
A man works to make up for stealing a phone; a woman cares for the destitute and does a newspaper article about it to try to share their plight; a man is forgiven for stealing.
Violence:
A man breaks into a car and steals an expensive phone, but he later makes restitution for it.
Info
Genre:
Christmas Drama Family
Industry Rating:
Not Rated