Idlewild
Theatrical Release:
August 25, 2006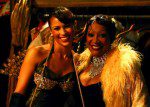 Synopsis
The story of the loves and ambitions of two struggling performers is told through intricate musical numbers and vibrantly choreographed dance sequences in Idlewild, an original musical starring multi-platinum and multi-Grammy winning OutKast members André Benjamin (André 3000) and Antwan A. Patton (Big Boi).
Set against the backdrop of a 1930s southern speakeasy, Idlewild explores the lives of Percival (Benjamin), the club's shy piano player, and Rooster (Patton), the club's showy lead performer and manager. Idlewild synthesizes drama, music, cinema and style to bring the tale of struggling singers to life. It is the feature film-directing debut for Bryan Barber, the award-winning director and longtime OutKast music video collaborator, and includes dance sequences choreographed by legendary performer and three-time Tony winner Hinton Battle.
Dove Review
Idlewild is a city in Northwestern Michigan that is famous for being an important spot in the nation's history of segregation. This city attracted thousands of black vacationers, entertainers and had a wonderful nightlife. Based on the title I thought this film was going to be based on that. Boy was I wrong. "Idlewild" is nothing more than an excuse to get rappers on the screen doing their vulgar rap. Some consider this music, but I believe it is just crass, foul, vulgar words put to a nice beat.
It amazes me that Hollywood tries to be so realistic, at least that is the excuse they use for producing films that contain graphic sexual images, foul language, nudity etc…But this film takes place in the 1920's and contains rap music. That is far from being realistic in this reviewer's opinion.
Anyways, "Idlewild" is far from being a family film. It is far from being a good film. If you enjoy rap music, this film is one you might enjoy as long as you also enjoy graphic violence, sex, nudity and foul language.
There is another city in Michigan called Hell. That is exactly what sitting through this film was.
Content Description
Sex:
Man commits adultery; unmarried couple has sex; man has oral sex with woman. Suggestive dancing. Young boys seen under a table looking at women's underwear.
Nudity:
Topless female dancers; topless woman shown running down stairs; naked woman in bed with man; man shown taking bath; Lots of cleavage.
Info
Company:
Universal Pictures