The Ten Commandments: The Musical
Theatrical Release:
September 21, 2004
DVD Release:
November 21, 2006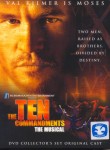 Synopsis
Through the magic of musical theatre, one of the world's greatest stories has been reborn. With a stunning new vision, "The Ten Commandments: The Musical" brings to life the gripping tale of two brothers, Moses and Ramses. United by love, divided by destiny, they lead their two nations in an epic struggle between slavery and liberty. Starring Val Kilmer live at Kodak Theatre in Hollywood, this spectacular presentation is directed by Emmy Award-winner Robert Iscove and based on the original hit by Eli Chouraqui, and features music by pop icon Patrick Leonard, lyrics by two-time Emmy Maribeth Derry, costumes by acclaimed designer Max Azria, and choreography by four-time MTV Video Music Award winner Travis Payne.
Dove Review
When I first heard of this title, my initial reaction was, "A musical based on the Ten Commandments? What?!" However, I must admit that this production works very well. The costumes are great, the acting is very good, and the singing is not only great but the songs are actually catchy and fit the story well. Val Kilmer is not the strongest singer in this musical, but he can sing, and that in itself was a bit of a surprise to me. The special effects are also quite good for a play, with literal fire used for the burning bush scene, and with drop away floor sets and some good use of a screen on which various images are displayed.
The only minor criticisms I have is that God's voice sounds like a combination of two voices singing, which was odd and not dramatic. And Pharaoh and Moses sing a song near the end about being brothers. Considering Pharaoh's ending, it seemed out of place that they were really buddies all along. Yet the overall production shines, and makes this story contemporary in a way which does not harm its history.
The content area makes this one suitable for ages twelve and above, as there is some strong sexual innuendo and dancing during the golden calf scene, when Moses is away on Mount Sinai to receive the Ten Commandments. The story wraps up on a peak and there is sustained applause for some time. Kilmer and Earley stand out as Moses and Ramses, as does Lauren Kennedy, who portrays the queen, Nefertari.
Info
Company:
Echo Bridge Home Entertainment
Producer:
Max Azria and Charles Cohen
Reviewer:
Edwin L. Carpenter