The Illusionist
Theatrical Release:
September 1, 2006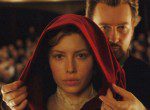 Synopsis
"The Illusionist" stars Edward Norton and Paul Giamatti as two men pitted against each other in a battle of wits: Norton as mysterious stage magician Eisenheim, and Giamatti as Vienna's shrewd Chief Inspector Uhl, with Jessica Biel sharing the screen as the beautiful Sophie von Teschen. When word of Eisenheim's astounding illusions reaches the powerful and pragmatic Crown Prince Leopold (Rufus Sewell), the ruler attends one of the magician's shows in order to debunk Eisenheim during the performance. But when the Prince's intended, Sophie von Teschen, assists the magician onstage, Eisenheim and Sophie recognize each other from their childhoods and a dormant love affair is rekindled. As the clandestine romance continues, Uhl is charged by Leopold to intensify his efforts to expose Eisenheim, even while the magician gains a devoted and vocal public following. With Uhl doggedly searching for the reasons and the man behind the trickery, Eisenheim prepares to execute his greatest illusion yet.
Dove Review
This is one of the best written, directed and well-acted films I have seen in a long time. It is engrossing from start to finish and is one unique love story. I have always loved magic and Eisenheim is one magician of superior intellect and talent.
"The Illusionist" would have been one of the family films Dove has been trying to convince Hollywood to make if it wasn't for the strongly implied sexual encounter between Eisenheim and Sophie. They just had to put that scene in which added nothing in my opinion. I think it would have been far more passionate if the writer would have built the sexual tension by refraining to have the two fornicate. This film has all the other family elements going for it. It is free of foul language (Although some other reviews have referenced the F-word, this reviewer didn't hear it and doesn't believe the film contained it), nudity, graphic violence, occult and drug use.
It is a shame that Dove cannot award "The Illusionist" the Dove Seal due to implicit sexual behavior.
Info
Company:
Yari Film Group Releasing