The Quiet
Theatrical Release:
August 25, 2006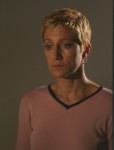 Synopsis
"The Quiet" is an intense story about family secrets, friendship, trust and betrayal where happy faces disguise ugly truths. Popular cheerleader Nina Deer's (Elisha Cuthbert) world is turned upside down when her parents (Edie Falco and Martin Donovan) adopt a recently orphaned deaf girl, Dot (Camilla Belle). But in this suburban home, things are not what they seem. Dot's arrival puts a crack in Nina's idyllic social life and the dark secrets her family harbors soon become exposed. Nina's friends, including the handsome Connor (Shawn Ashmore), develop an odd fascination with the newcomer and confide in her their darkest secrets. Dot quietly shoulders the burdens of those around her, simultaneously hiding her own secrets as well.
Dove Review
I was curious as to why there was only one other person in the theatre with me to view "The Quiet" until I sat through it. The incestuous theme creates a totally depressing atmosphere. Put that together with a teenager that lost her mother at age seven and her father when the film begins and you have the ingredients for a totally morose and slow moving film. There is nothing to enjoy here, just upsetting images of self absorbed teenagers, a sick father and a mother too strung out on painkillers to care anymore.
It is so bad, "mums" the word about "The Quiet".
Content Description
Sex:
Kissing; Man has sex with his daughter; unmarried teenagers have sex; a lot of sexual dialog throughout the film like, "You're seventeen and still a virgin?"
Language:
F-29; S-6; A-2; B-4; G-1; J-2; JC-2; Chr*st-2; Wh*re-1; Slang for both male and female genitals; Slang term for orgy
Drugs:
Smoking, woman takes prescription painkillers, teenage daughter steals and consumes painkillers.
Info
Company:
Sony Pictures Home Entertainment
Writer:
Abdi Nazemian and Micah Schraft