Flyboys
Theatrical Release:
September 22, 2006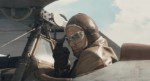 Synopsis
As World War I rages in Europe and Allied forces in France, Italy, and England find their resolve quickly diminishing due to the overwhelming force of the German juggernaut, a handful of brave American soldiers volunteer to join their French counterparts in learning to fly and fighting for freedom from above as the true story of the legendary Lafayette Escadrille comes to the screen in a breathtaking war adventure from Academy Award-winning director Tony Bill and famed producer Dean Devlin. They have come from all over the United States, ready and willing to put their lives on the line despite their country's initial pledge to not get involved with the all-consuming war that rages throughout Europe.
Few could have foreseen the challenges faced by the world's first fighter pilots, however, and upon arriving at their aerodrome in France, the aspiring aviators are assigned to a new squadron under the command of war-ravaged Captain Thenault (Jean Reno) and battle-weary American pilot Reed Cassidy — the sole survivor of his devastated former air brigade. With little encouragement from their fellow aviators and nothing to drive but their unifying goal of taking to the skies and offering up their lives in the name of freedom, the determined airmen of the Lafayette Escadrille set out to make history by embarking on the adventure of a lifetime.
Dove Review
This movie was highly entertaining and James Franco gives what might be the best performance yet in his career. Newcomer Philip Winchester also does a great job as the young fighter pilot who is not sure he can live up to what is expected of him. Each pilot has his own story and this includes a young black man joining up in France and even a minister who sings "Onward Christian Soldier" while fighting in the skies. It should be noted that the black man has to endure some racism. The dogfights are realistic and the battles a bit gruesome at times.
The problem in approving this film for families ages twelve and above is that there is one "GD" in the film, and the violence hits a three on our content chart, which means we can't approve it for families. This one came close to making it. If the one word had not been in the film, and the violence had been slightly less graphic, this one would have made the cut. We are sorry it didn't as it is a near-miss but we cannot approve this film for family viewing.
Info
Writer:
Phil Sears and Blake T. Evans
Reviewer:
Edwin L. Carpenter