All the Kings Men
Theatrical Release:
September 22, 2006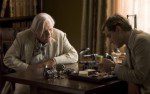 Synopsis
The dramatic story of larger-than-life politician Willie Stark (Sean Penn), who transcended the poverty of the Great Depression to become the governor of Louisiana. While Stark begins his political career as a humble idealist, soon he has surrounded himself with strongmen to enforce his good-intentioned but iron rule. Stark brings in massive changes to help the poor, but the progressive initiatives he spearheads are won through questionable strong-arm tactics.
Meanwhile, Stark's tortured sidekick, Jack Burden (Jude Law), was born to an aristocratic family but betrays his roots to become Stark's closest aide-de-camp. A lifelong dilettante, Burden has abandoned many loves over the years, including his former sweetheart, Anne Stanton (Kate Winslet)—herself the daughter of a former governor. When Jack is asked to meddle in the private affairs of the esteemed Judge Irwin (Anthony Hopkins), he uncovers deeply disturbing secrets from his past.
Based on Robert Penn Warren's classic novel All the King's Men.
Dove Review
This film is one of those which starts out pretty good, and gets worse as it goes. Willie Stark begins campaigning as a man who tells it like it is, and he cares for the "hicks" and little people. His aim is to be elected governor of Louisiana. With an evangelistic style for his political pulpit, he gets himself elected despite great odds. Yet it's not long before Willie starts using some unsavory methods to fight off his detractors and enemies.
Sean Penn gives an Academy-Award caliber of performance in this film, and Jude Law is excellent too. Unfortunately, the strong language and violence at the end of the film sink it and prevent it from sailing along on Dove's family-approved film list.
Info
Company:
Sony Pictures Home Entertainment
Reviewer:
Edwin L. Carpenter