Confetti
Theatrical Release:
September 22, 2006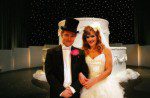 Synopsis
Three couples endure the living hell that is the happiest day of their lives in this comic mockumentary. Confetti is the United Kingdom's most prestigious wedding magazine, and publisher Antoni (Jimmy Carr) and editor Vivien (Felicity Montagu) have made a career out of documenting the cutting edge in nuptial ceremonies. Antoni and Vivien have decided to stage a contest to find the most original wedding concepts in Britain; the Confetti staff will narrow the field down to three candidates, help the couples stage their weddings, and treat the grand prize winner to a major photo spread in the magazine as well as a new home worth 500,000 pounds.
Dove Review
The plot is thin and the film is tedious as we follow three couple's wedding countdown to the Big Day. "Confetti", the fictitious British wedding magazine is sponsoring a contest for the best theatrical ceremony. The prize is a new home! There are the gay wedding planners, choreographers, voice coach and a few other characters to deal with as well. The tennis pro, Jesus, is from Spain. The only reason he is there is so one of the men can make fun of his name and purposely mispronounce it. A couple of other people seem to have no reason for being in the movie at all.
The antics of the three couples trying to win the prize is, I'm guessing, supposed to be funny. One of the couples are "naturalists", what we would call nudists. We get to see them fully naked for the entire film along with all their friends, family and the rest of the camp. They decide they don't want to wear any "costumes" for the competition/wedding, in the magazine photos etc. The magazine editor is dismayed and this goes on for the entire movie. We are never told why the editor just didn't replace them. Another couple involves a self-centered, insecure, angry young man and his even more insecure girlfriend. He is angry and negative throughout the film and she is constantly trying to soothe and placate him. The third couple are pretty normal, and predictably win the contest with their Busby Berkley song and dance routine.
I believe the writer had an agenda with this movie, because the most healthy couple of all was the gay wedding planners. They are sensitive to each other's needs and are there for each other in times of trouble and strife. At the end of the movie they even propose. The film epilogue tries to show the viewer that everything turns out great for everyone of the couples, but it's just too neat and tidy and felt like an afterthought. Really not very funny given the premise. The acting was very good. Too bad the talent was wasted.
Info
Company:
Fox Searchlight Pictures