The Search for the Real Mt. Sinai
DVD Release:
January 17, 2006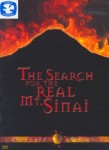 Synopsis
Two explorers take an incredible expedition into the blistering Arabian Desert and turn up what many scholars believe to be one of the greatest discoveries in history…the real Mount Sinai, the holy mountain on which Moses received the Ten Commandments.
This program tells their amazing story: how they crawl into forbidden military installations, and use night vision goggles to avoid being detected as they pursue their mission and discover over a dozen significant remnants still remaining at the site. The explorers embark on a journey that would change their lives forever…finding remarkable evidence that confirms the Bible as historically accurate.
Weaving together real life adventure, historical research and exclusive never-before-released footage, this exciting adventure leaps off the screen to document a story you'll never forget.
Dove Review
This is a fantastic documentary. The two adventurers in this film give not just one or two proofs to back up their claim that they found the real Mt. Sinai, but several proofs. Go on location with the two and see this off-limits mountain up close. The documentary is very well produced and has great narration by actor John Ryhs-Davies, who played Gimli in "The Lord of the Rings," as well as Sallah in two of the "Indiana Jones" films. We award this film five doves, the highest number we can give. We recommend it for all ages in the family.
Info
Company:
Exploration Films
Starring:
Narrated by John Rhys-Davies
Reviewer:
Edwin L. Carpenter