Lifes Story: The One that Hasn't Been Told
DVD Release:
September 2, 2004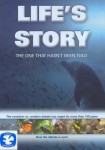 Synopsis
What does modern DNA research now prove about the theory that simple cells evolved into all life on earth? The answer? Simply that evolution is impossible. So why is this information being kept from the general public? Should Darwin's theories still be taught as "facts" in our educational institutions?
In a wildlife program unlike any other seen before, you will journey to discover the story of life itself. This program examines the long held beliefs that have been the foundation of natural selection for more than 150 years.
How much can animals change? Why do so many species depend upon one another to survive? Where does instinct and intelligence come from? And what do the designs of creatures alive today reveal about their history?
Learn about the abilities of parrot fish and dolphins, the habits of ostriches and wildabeasts, and the skills and instincts of cheetahs, giraffes and lions.
Filmed and researched over a five year period in more than ten different countries, "Life's Story" explores all these issues and many more in one of the most visually stunning and informative wildlife productions available today.
Dove Review
This fascinating documentary boldly defies Darwin, and does so with proof set against a beautiful backdrop of fish, sea life, plant life, and other creatures such as lions and cheetahs and giraffes. The narrator relays fascinating scientific information such as: DNA prevents mutations, and the few minor times there are any differences, the species does not become better. It's mentioned that creatures today are the same as their fossil grandparents. The narrator also quotes some great men, including Lord Calvin who said, "The atheistic idea is so nonsensical that I cannot put it into words."
With such useful information being shared, such as apes being born with knowledge, but humans having to learn, it is obvious to me that this DVD should be in every classroom in America! We heartily recommend this DVD for all ages and we award it five doves, the most we can give. Knowledge never looked this good!
Info
Company:
Exploration Films
Industry Rating:
Not Rated
Starring:
Narrated by Nick Jackson
Reviewer:
Edwin L. Carpenter