Incredible Creatures that Defy Evolution 1
DVD Release:
December 7, 2000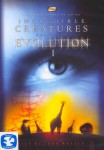 Synopsis
"Incredible Creatures that Defy Evolution" enters the fascinating world of animals to reveal sophisticated and complex designs that shake the traditional foundations of evolutionary theory. For the past 20 years, Dr. Jobe Martin has been fascinating his students as he lectures on these remarkable animals that cannot be explained by traditional evolution.
Dr. Martin was a traditional evolutionist, but his medical and scientific training would go through an evolution; rather, a revolution, when he began to study animals that challenged the scientific assumptions of his education.
Dove Review
This documentary is awarded five out of five doves! Dr. Jobe Martin is utterly convincing in his belief in creative design following his former belief in the theory of evolution. As he takes the viewer through the documentary with incredible footage, and scientifically explains the built-in features of various creatures which help sustain and protect them, and help them to adapt to various situations, the evidence mounts and piles up high. Every classroom in America should own this DVD!
Info
Company:
Exploration Films
Starring:
Narrated by Dr. Jobe Martin
Reviewer:
Edwin L. Carpenter