Incredible Creatures that Defy Evolution 2
Theatrical Release:
December 8, 2002
DVD Release:
December 8, 2002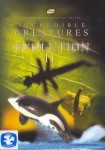 Synopsis
"Incredible Creatures that Defy Evolution 2" presents powerful evidence that proves that animal designs can only be attributed to a creator; they cannot possibly be explained by evolution. This program will inspire you to look more closely at the world around you.
Dove Review
This second volume in a three-volume set continues to produce outstanding, quality viewing. Dr. Jobe Martin is an expert in his field and continues his argument that creation itself teaches us that a creator is behind all the great designs. He even includes an example of a humpback whale, which has fins which act as an air conditioner for the whale! The amazing abilities of homing pigeons and many other creatures are used effectively as examples in this DVD. You may not be able to look at a glow worm the same way after viewing this. This is outstanding in that it is enjoyable as well as educational. We recommend this DVD and this set for every home in America and for all ages, and we enthusiastically award it five doves!
Info
Company:
Exploration Films
Starring:
Narrated by Dr. Jobe Martin and hosted by David Hames
Reviewer:
Edwin L. Carpenter