Employee of the Month
Theatrical Release:
October 6, 2006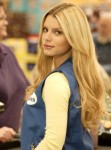 Synopsis
For customers of Super Club, the largest high-volume, bulk-discount retailer in the country, membership has its privileges. For workers at the cavernous store, the most coveted honor is the "Employee of the Month" award, and having one's photo immortalized on the wall of fame in the staff lounge.
Enter Zack Bradley (Dane Cook) and Vince Downey (Dax Shepard), two ultra competitive Super Club workers whose ten years of employment have resulted in drastically different career paths. While Vince – with the aid of his trusty sidekick Jorge (Efren Ramirez) — has advanced to become head cashier and winner of 17 consecutive "E of M" awards, Zack is the ultimate slacker whose scruffy appearance and laid back attitude has made him popular with his colleagues, but kept him stuck in the lowly ranks of the store's box boys. The duo's longtime rivalry comes to a bitter head when Amy (Jessica Simpson) – a beautiful new cashier with a reputation of only dating "Employee of the Month" winners – transfers to the store, immediately becoming the object of both Zack and Vince's affection and often comical gamesmanship.
While Vince instantly impresses Amy with his crowd pleasing, flamboyant style behind his checkstand register, Zack's feeble attempts to charm his beautiful new co-worker quickly backfire against him. With the race to win Amy's affections slipping away, Zack determines his only chance rests in winning the store's next "Employee of the Month" award. A battle to the end, "Employee of the Month" shows that the only failure in life is when one fails to try.
Dove Review
This movie may appeal to teens and young adults, but I can't imagine it appealing to any mature age group at all, and that includes the mature teens and mature young adults! The one positive thing I gleaned from this film is that Zack (Dane Cook) seems to learn that if he truly cares about his job and other people, the rewards will come. Up until then he is in a heated contest with Vince (Dax Shepard) to become the "Employee of the Month." Zack wants the honor to impress the new girl at the Super Club store where they work, and Vince wants to win an eighteenth consecutive title as he will win a new car.
The movie is filled with gross jokes and very strong language. Most offensive of all is when an adult uses the dreaded "F" word in front of a group of kids. The sexual innuendos are almost non-stop as well, and there is the use of a character's middle finger. The way for families to truly win is to see something else this month.
Info
Writer:
Don Calame and Chris Conroy
Reviewer:
Edwin L. Carpenter