Thingamakid: Action Bible Toons
Theatrical Release:
October 1, 2006
DVD Release:
October 1, 2006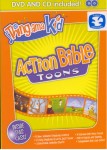 Synopsis
Animated Bible stories come to life through classic Sunday School songs! Kids will love to watch and sing along with this colorful, fun-filled, fully animated collection of the best loved Bible songs of all time. Each package includes a DVD and a CD. Perfect for parents and kids on the go!
Dove Review
Sing along with these delightful Bible story songs while watching the animated DVD or listening to the CD in the car. This set is filled with the songs that were taught to me as a child in Vacation Bible school. All will enjoy the fun time created by this musical duo. Also included in each DVD are educational short stories.
Info
Industry Rating:
Not Rated