Matt Calvert: Finding Gods Love in the Middle of Loss and Pain
Theatrical Release:
October 27, 2006
DVD Release:
October 27, 2006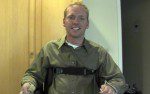 Synopsis
Matt Calvert's life abruptly changed in December 2004 when a skiing accident left him a quadriplegic. In this video, Matt frankly highlights the challenges of life after the accident and how he relies on God's love and hope to sustain him each day. His courageous faith and positive perspective is truly inspiring for anyone regardless of their circumstances.
Dove Review
This is a very inspirational film. Matt Calvert, a quadriplegic, narrates this autobiography and shares his experience with the belief that his faith will result in his better understanding of this personal tragedy in the future. He gives several scriptures in the process which promote courage and hope. This short film is inspirational in just watching Mr. Calvert. We recommend it for all ages and award it five doves, the most we can award.