Historical Perspective: The John Glenn Story
Theatrical Release:
October 27, 2006
DVD Release:
October 27, 2006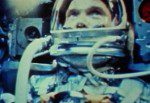 Synopsis
This 30-minute film was originally sponsored by NASA (the National Aeronautics and Space Administration) and produced at Warner Brothers Studios. It provides a look into the early life of John Glenn as well as his personal experiences before and after his historic space flight.
First hand accounts of those who new John Glenn when he was younger provide a map to how he matured into a role that garnered him international familiarity. We hope this film will provide viewers with a better understanding and appreciation of John Glenn's life story.
Dove Review
This short biography of John Glenn gives a lot of information in a short amount of time. From Glenn's birth in Ohio to his family background, the sports he played in school, and his interest in flying right up to his career as an astronaut, this is a fascinating biographical piece. We even hear briefly from President John F. Kennedy. This film is Dove-approved for all ages.
Info
Company:
Take Five Films, LLC
Industry Rating:
Not Rated
Starring:
Narrated by Jack Webb
Reviewer:
Edwin L. Carpenter