March of the Penguins (A Seven Minute Short)
Network Premier:
November 25, 2006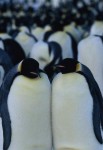 Synopsis
The Hallmark Channel presents the World Television Premiere of the never-before-seen film short subject from Academy-Award-winning filmmakers Luc Jacquet and Yves Darondeau of "March of the Penguins."
The seven-minute short film is based on the filmmakers' three year saga to capture the unique survival habits of Antarctica's Emperor Penguins. Even in this short film presentation there is heart, emotion, sacrifice, life, death, and love.
Luc Jacquet and Emanuel Priou narrate the short film subject which will be seen immediately following the U.S. television premiere of the theatrical film, "March of the Penguins" only on Hallmark Channel, Saturday, November 25 (9/8c).
Dove Review
This seven minute short will follow the television premiere of "March of the Penguins" on the Hallmark Channel on Saturday, November 25. This short is interesting and entertaining, especially considering its abbreviated length. Such things as a penguin's breeding cycle, death of penguins in Anarctica, and the frigid temperatures the camera crew dealt with are all showcased in this program. With some narration by director Luc Jacquet, this short is well worth viewing and should be enjoyed by every member of the family as it includes lots of penguins!
Info
Company:
Hallmark Channel
Industry Rating:
Not Rated
Starring:
Narrated by Luc Jacquet
Reviewer:
Edwin L. Carpenter