The Science of Sleep
Theatrical Release:
September 22, 2006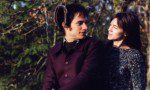 Synopsis
Life seems to be looking up for shy and withdrawn Stephane (Gael Garcia Bernal) when he returns to his childhood home with the promise of a great job. Wildly creative, his fanciful and sometimes disturbing dream life constantly threatens to usurp his waking world. While the job fails to meet expectations, he does strike up a relationship with his neighbor, Stephanie. As their connection blossoms, the confidence he exudes in his fanciful dream life begins bleeding into his real life. But just as everything is looking up, his insecurities raise their ugly head, and he faces a dilemma that the 'Science of Sleep' may not help him solve. Michel Gondry's science fiction doesn't explore outer, but rather inner, space, playfully reflecting the interaction between the worlds we inhabit: nature, society, and the mind. "The Science of Sleep" utilizes rudimentary techniques to craft a thoroughly complex vision of the lead character's brain, filled with the anxieties, hopes, fears, and yearnings that lie in all of us.
Dove Review
This may be the most bizzare film I have ever seen. It drifts so seamlessly back and forth between reality and the mind that the viewer is hard pressed to determine which one the film is displaying at any given time. It goes from live-action scenes to animated scenes and had a cardboard box car and telephone in some scenes. There is no logic to the plot and indeed, after viewing the film I am still not sure what the plot was about. All I ascertained for sure was that the main character Stephane wanted Stephanie to be his girlfriend, yet he had fantasies about the woman he worked with as well. It should be noted that there are subtitles in the film. There is very strong language in this film as well as nudity and sexual innuendos and simulated sex. There is also some gross humor and flatulence as well as vomit on the front of a person. We do not approve this film for family viewing.
Info
Company:
Warner Independent Pictures
Reviewer:
Edwin L. Carpenter