The Wumblers: Episode 1
Network Premier:
September 1, 2007
DVD Release:
September 1, 2007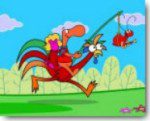 Synopsis
The Wumblers are a sweet-natured, whimsical collection of characters who live in a world enough like our own to make sense, but different enough to be enthralling. The Wumblers are multi-colored, bulbous-shaped characters whose food falls from the sky, whose babies come from watermelon, and whose stories blend inspiration, imagination, and fun. Spiritually and globally conscious, "The Wumblers" devotes each and every episode to making the world a better place for all.
Dove Review
In this episode the cute Wumblers educate your youngsters about color. But the story also tells them that no matter what changes their looks take, they will still be who they are. This is a very encouraging show that will educate and entertain at the same time.
Info
Company:
Giddy Gander Com. LLC