Catch a Fire
Theatrical Release:
October 27, 2006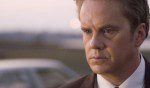 Synopsis
"Catch a Fire" is a political thriller based on the true story of Patrick Chamusso, an ordinary man forced to resort to terror in extraordinary circumstances. It's a story of one man's struggle amongst a nation's, set in a divided South Africa in the 1980s, climaxing in the present day.
Dove Review
The question you must ask yourself is were members of the African National Congress (ANC) Freedom Fighters, or Terrorists? This movie takes you on the journey of one man and his experience with this very issue. At first he is wrongly accused of being a terrorist and is tortured in the pursuit of information by the South African government. But he is released when they no longer suspect his involvement in an explosion. Due to their harsh treatment, he leaves all behind and joins the ANC where he receives training in terrorist activities.
While this is a very politically correct version of events, one can't help but to ponder the question I ask above. This movie should have been able to at least instigate debate among the youth of America on the subject of Apartheid but with one "F-word" and slightly over the top violence, Dove cannot award it our seal.