Saw lll
Theatrical Release:
October 27, 2006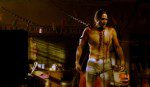 Synopsis
Jigsaw has disappeared.
With his new apprentice Amanda (Shawnee Smith), the puppet-master behind the cruel, intricate games that have terrified a community and baffled police has once again eluded capture and vanished. While city detectives scramble to locate him, Doctor Lynn Denlon (Bahar Soomekh) is unaware that she is about to become the latest pawn on his vicious chessboard.
One night, after finishing a shift at her hospital, Lynn is kidnapped and taken to an abandoned warehouse where she meets Jigsaw (Tobin Bell), bedridden and on the verge of death. She is told that she must keep the madman alive for as long as it takes Jeff (Angus Macfayden), another of his victims, to complete a game of his own. Racing against the ticking clock of Jigsaw's own heartbeat, Lynn and Jeff struggle to make it through each of their vicious tests, unaware that he has a much bigger plan for both of them…
Dove Review
"Saw 3" epitomizes everything that is wrong with modern horror movies. The most recent trend in horror movies seems not to be frightening the audience, but rather making the audience sick to their stomachs by cramming in as much human suffering as possible. With respect to human suffering, "Saw 3" succeeds in making one wonder, "Who came up with all these horrible ways of torturing people?" The only thing about "Saw 3" that scared me was that someone actually made this film. A demented man dying of a brain tumor picks people whom he feels are not living their lives the way he thinks they should, and tortures them. For example, a man whose son was hit by a car and killed, is chosen as a victim because he has spent the years since his son's death contemplating revenge. The psychopath plans out elaborate schemes for his victims, but there is no way his schemes could work out unless he knows everything the other people in the film are going to do. But of course, his schemes always work. Go figure.
Info
Writer:
Leigh Whannell and James Wan