Keeping Mum
Theatrical Release:
October 27, 2006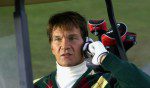 Synopsis
KEEPING MUM stars Atkinson as an absent-minded vicar of a rural parish who is so distracted by the pressures of his job that he fails to notice his wife's (Thomas) dalliance with her brash golf instructor (Swayze), his daughter's parade of new boyfriends, and his young son's regular trouncing by the school's bullies. Enter their charming new housekeeper, Grace (Smith), the answer to the family's prayers: a sweet, grey-haired old lady with her own distinctive definition of cleaning house. One by one, the family members find that Grace is able to solve their problems, but they don't realize that her means are leading to a lot of ends and the population of their sleepy hamlet is rapidly diminishing.
Dove Review
This black comedy, filled with English humor, is teeming with mystery and family secrets. A family that is rather dysfunctional and certainly has its share of problems. But everything can be worked out with a little help from the character Grace who is not the person they think she is. Grace helps in a most intriguing way. Showing that family secrets can be hidden anywhere.
While funny at times, the families' problems are solved in some rather unconventional and improper ways. Due to language and sexual content this movie cannot receive Dove's approval.
Info
Writer:
Richard Russo and Niall Johnson