Borat
Theatrical Release:
November 3, 2006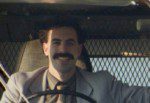 Synopsis
In 'BORAT' Sacha Baron Cohen – star of HBO's hit comedy "Da Ali G Show," takes his outrageous Kazakhstani reporter character Borat to the big screen. In this hilariously offensive movie, Borat travels from his primitive home in Kazakhstan to the U.S. to make a documentary. On his cross-country road-trip, Borat meets real people in real situations with hysterical consequences.
Dove Review
The character of Borat shows just how irreverent Sacha Baron Cohen can be. This film was so disgusting that it even offended many in the audience that I'm sure would normally like such trash. With scenes like the "running of the Jew" and two incidents of on-camera masturbation, I thought I was watching "Jack-Ass II" all over again.
This film was so controversial in Europe with its bigoted portrayal of Jews and Gypsies that the German division of the studio releasing it was sued on two separate occasions. With no redeeming qualities and content that would make a sailor blush, this film is definitely NOT family friendly.
Info
Company:
20th Century Fox
Writer:
Sacha Baron Cohen and Anthony Hines