The Impossible Elephant
Theatrical Release:
February 1, 2007
DVD Release:
February 1, 2007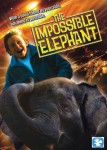 Synopsis
Tormented by a giant bully and dealing with the loss of his mom, twelve-year-old Daniel (Mark Rendall, Spirit Bear: The Simon Jackson Story) wishes for a cool pet that will always be by his side. After discovering Lumpy – a real, live elephant – in his backyard, it's as if his wish has come true…until his no-nonsense dad ships Lumpy off to the local zoo. Seeing how unhappy his new found friend is behind bars, Daniel teams up with Trout, the class brain, to spring Lumpy free, resulting in the adventure of a lifetime – reminding us that some friendships are unexpected, magic is real and nothing is impossible! Also starring Mia Sara.
Dove Review
A charming movie about a little boy and his "pet". Most people with children have gone though the "I want a pet" situation. But an elephant was probably not even close to seriously being considered as a family pet. Daniel's new pet has a magical way of helping everyone get through the tough stuff.
This film is very interesting and entertaining. Everyone will enjoy "The Impossible Elephant."
Info
Company:
Echo Bridge Home Entertainment
Industry Rating:
Not Rated