Candles On Bay Street
Theatrical Release:
November 26, 2006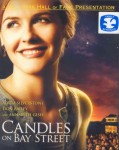 Synopsis
Alicia Silverstone plays Dee Dee, a single mom who returns to her hometown in northern Maine, several years after abruptly leaving-and leaving behind the man who truly loved her, Sam Timmons (Eion Bailey), who subsequently married Lydia (Annabeth Gish).
When Dee Dee returns with her son, Trooper (Matthew Knight), virtually everyone in the tight-knit community is affected, including the earthy Rosemary (Polly Bergen), who works at the veterinary clinic run by Sam and Lydia.
Dove Review
This movie is family-friendly all the way. Hallmark Hall of Fame does another outstanding job with this production. The whole family should watch this while eating their leftover turkey sandwiches when this airs Thanksgiving weekend. It is a wholesome but realistic story about a single mother named Dee Dee who returns to her small hometown in Maine, after leaving abruptly years before and breaking the heart of town veterinarian Sam Timmons. Her son Trooper becomes attached to Sam and begins helping him out in his vet duties. Sam's wife Lydia, though jealous of Dee Dee at first, soon becomes fast friends with her. When Dee Dee reveals a troubling secret, only Sam and Dee Dee can help.
The content in this film is wholesome. There are a couple of brief scenes which take place in a bar and a brief shot of a few characters drinking and that's it. There is no language, sex, or violence. The film is tightly directed and the entire cast gives solid performances. Alicia Silverstone's likable character of Dee Dee works well for the story.
Info
Company:
Hallmark Hall of Fame
Writer:
Michael Bortman and Jonathan Estrin
Producer:
Andrew Gottlieb and John Erman
Reviewer:
Edwin L. Carpenter