I Flunked Sunday School
Theatrical Release:
August 28, 2006
DVD Release:
December 1, 2007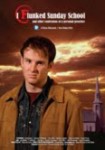 Synopsis
Lloyd Boyd has been called of God – in the shower – to become a Personal Preacher. No other information was available. Lloyd puts his business card at grocery stores, bus stops, gas stations – lots of places – and starts getting calls.
Sister Selma wants her back-sliding man to come back to church. Nine years ago he quit going, stating simply "I got it" and now she's ready for him to start again.
Miss Minerva and Miss Flossie are the last members of the church Lloyd attended as a child – and the one where he managed to flunk Sunday School. They've moved in to pay the bills and keep the doors open. But a lawyer has a client who wants to buy the property for $5 million. Lloyd… HELP!
Kevin Kuchar is a multi-millionaire with a dark secret that drives his philanthropy. Only one person knows – until he tells Lloyd. Now he's afraid everyone will find out.
As Lloyd enters each story they begin to change and he stumbles and bumbles his way into their lives. Grant ends up in church – but without his pants. The ladies decide to keep the church going but the lawyers find a way to try to force the sale. And Kuchar gets pushed to the very edge of his ability to cope. The sole person in the midst of it all – is a guy who Flunked Sunday School!
Dove Review
This is a rather unique film. The story centers around a minister named Lloyd Boyd who is a "personal" minister and is on call to minister to people one-on-one. He works to get a lady's companion, Grant, to go to church with her. Unfortunately, she is not married to her live-in companion, but this is resolved by film's end and she does marry Grant in a plot twist which is a bit surprising. Rev. Boyd also works to save a church which is down to two members, and he takes on other challenges in the film, including his efforts to help a man who can't forgive himself for something which occurred in his past.
This film is a bit disjointed in parts but it does manage to resolve all the major plotlines by the movie's end. This movie includes some theology which some might not agree with-"once saved, always saved," and it includes a racial comment toward the white minister. Also, a comment about "dumb sheep," and a few "Oh God" or "Oh my God" comments. The minister is also not ordained by any church but simply says God called him. For these reasons, we recommend this film for ages twelve and above, with the comment that it is not your typical religious-themed film, but does manage to make the viewer think. And the viewer will probably laugh a few times as well.
Info
Company:
Silk Purse Entertainment
Writer:
Ken Bailey and Steve McCurdy
Industry Rating:
Not Rated
Reviewer:
Edwin L. Carpenter