Deck the Halls
Theatrical Release:
November 22, 2006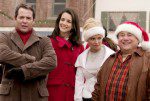 Synopsis
A family comedy about one-upsmanship, jealousy, clashing neighbors, home decoration… and the true spirit of the holidays. Steve (Matthew Broderick), a suburban dad and Christmas enthusiast, leads a well-ordered, well-planned and well-organized life. His new neighbor, Danny (Danny DeVito) is Steve's polar opposite – a big personality with big dreams, which have yet to materialize. But Danny's latest dream – to create the biggest holiday light display in the world, visible from outer space – is turning Steve's disciplined world into a chaotic nightmare. As Danny's home explodes with festive lights of incredible design, increasing complexity, and exponentially-growing wattage, Steve becomes a man on a mission. At any cost, he will thwart Danny – or top him.
Dove Review
If you liked the movie "National Lampoon's Christmas Vacation" you will love this one. This slapstick comedy is about two men with an obsession of being number one at Christmas. Danny and Steve's competitive ways get each one of them into trouble and causes problems for both men. There are plenty of laughs to go around in this funny movie.
However, I was disappointed to hear so many sexual jokes. And my jaw dropped when Steve gets frustrated by his neighbor's light display and exclaims "Jesus." Now, I should be fair and tell you that the wives and neighbors around him gasp in horror when they hear him and he immediately breaks into a Christmas Carol that uses the name Jesus in it. Unfortunately, this is a poorly disguised attempt by the film's director to invoke a laugh from the audience while trying to get away with using biblical profanity in a film. Due to this, Dove cannot approve an otherwise enjoyable film.
Info
Company:
20th Century Fox