Tenacious D in: The Pick of Destiny
Theatrical Release:
November 22, 2006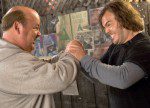 Synopsis
The legend of the fabled 'Pick of Destiny' infuses every page of rock history. This is no ordinary pick, my friends, its sheer power could shake the pillars of Algernon. It is a thing of lore…a thing of magic.
Since the dark ages, this supernatural pick has been passed down through many hands. The world's most awesome composers. The hardest of hard rockers. Many of the great masterpieces in music were due to the pick's powerful spell.
Now, the time draws nigh when the pick will be passed to the next generation of rock – the ones they call Tenacious D. This is their tale of a friendship that would last through the ages and a musical and spiritual synergy so strong that it would reshape our very understanding of the concept of rock.
Dove Review
Before this film even starts, the audience is treated to a tasteless cartoon sequence where Jack Black induces a cartooned version of Kyle Gass to pass so much gas that he shoots like a rocket off the screen. There is so much offensive language and subject matter in this film that I can easily say it is NOT APPROVED.
Tenacious D is the name of Jack Black's real band and they do write and perform much of the music in this film which is essentially a rock opera. Jack Black's enthusiasm for and love of rock and roll are obvious and appreciated. But, I pity the average film goer who may wander into this juvenile rant. For the characters in this film, Rock and Roll is their religion. Sex and drugs definitely figure into their activities, but it was the satanic symbols and rituals that I found most offensive. It wasn't until the two main characters set off on their quest for the "Pick of Destiny" that this film moved beyond bathroom humor and bad language into much darker areas. Two scenes stand out and should illustrate my point. When the two characters must write a new song they seek inspiration by performing a satanic ritual. They draw a pentagram on the floor, light candles and stand in the middle calling on the power of Satan to help them. Near the end, an innocent man turns into the Devil and the two men challenge him to a "rock off" which if they lose would cause one of them to be the devil's sex slave.
It should be noted that "Jesus" and "Praise the Lord" are said reverently by parents. It only takes a glance at the content chart to see that this film is not one for the family or even for mature adults.