Learn Magic With Lyn
Theatrical Release:
December 12, 2006
DVD Release:
December 12, 2006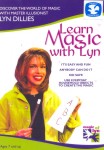 Synopsis
In the tradition of Mr. Wizard and Sheri Lewis, Master Illusionist Lyn Dillies shows a new way to teach children magic using ordinary, household items. This DVD features eleven uncomplicated but impressive tricks that any child can learn. Lyn guides the viewer throughout the entire process of learning how to do a magic trick. It's clear, concise and is presented in a contemporary and entertaining manner. From showing the trick, to teaching how to make it and perform it, Lyn also intersperses some general rules of magic. At the end of the DVD she inspires children to believe in their dreams. Also included during the credits are some actual performance clips of Lyn doing her show.
Dove Review
This program is an excellent introduction to magic for young children. With her engaging personality, Lyn Dillies performs each trick and then gives detailed instructions on how to construct and then perform it for an audience. I was impressed with the simplicity of each trick and that with just a little practice, a child can successfully perform it for their friends. The tricks chosen by Lyn are simple enough for young children, not relying heavily on slight of hand, yet interesting enough to entertain most anyone. And parents will be pleasantly surprised that most if not all of the construction is done with household items and can be done with very little parental assistance.
In her introduction, Lyn references the positive effects practicing magic has on children and their self confidence. I agree and feel her video gives them all the tools necessary to become the next great magician — if only in their own home or neighborhood.
Info
Industry Rating:
Not Rated