Journey of Hope
Theatrical Release:
November 14, 2006
DVD Release:
November 14, 2006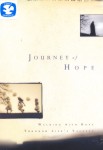 Synopsis
Why do bad things happen to good people? What is the reason for suffering? Is there a purpose for pain? Are we just victims of circumstance? Is there a God? And if God is real, does he care about us individually in our deepest despair?
If you or a loved one are asking these questions, if you are battling cancer or a serious illness, if you are in a valley of depression or despair, you desperately need hope. You need a hope that is real, a hope that is firm, a hope that lasts no matter how long or deep your valley.
Journey of Hope provides you with the hope you will need to overcome fear, pain, loneliness, doubt and despair–with a hope that is real, a hope that you can build your life upon.
Dove Review
Former major league pitcher Dave Dravecky is featured in this award-winning DVD, as well as others who, like Dravecky, have faced cancer and other major obstacles along life's journey. This is a journey of hope and will encourage victims of tragedy as well as their loved ones.
Several points are made including the fact the person facing the crisis is not alone, is loved, and God is with the individual. There is a section titled "Beginning Your Journey," which speaks of finding faith in Christ, and a section which briefly gives information about Dravecky's Outreach of Hope. There is no objectionable material in this DVD but due to the intense theme, and the fact young children might find it slow moving, we recommend it for ages twelve and above. We award this fine program five doves, our highest number.
Info
Company:
Exploration Films
Writer:
Galen Wright and Jeffery Bates
Reviewer:
Edwin L. Carpenter