Lifes Story 2: The Reason for the Journey
Theatrical Release:
November 14, 2006
DVD Release:
November 14, 2006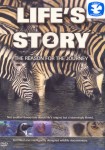 Synopsis
Life's Story 2 is a factual and visual feast from beginning to end. It takes you on an incredible documentary journey of discovery to unravel some of the most amazing mysteries of the natural world.
From simple cells in the seas to fish, amphibians, reptiles, birds, mammals and eventually humans: this we are told has been the evolutionary tree of life. So how does this theory fit in with all we see around us?
After thousands of years of observable evidence and advances in biological research, do Darwin's evolutionary ideas measure-up to the discoveries of modern science today?
In this program you will learn about the navigation, techniques and defense mechnisms of marine life, the complex behavior of birds, the differences between apes, monkeys and humans, "ape-men" mixing link hoaxes, and how some of the large mammals feed and digest their food.
Dove Review
This documentary merits five doves from us. The footage of various animals, much of it from South Africa, is vivid and fantastic. Incorporated in this video is a bird building a nest and the video reveals how much of a wonder that process really is. This DVD is not only enjoyable to watch but educational as it showcases the defense mechanisms built into various species. The knowledge shared about genes, and that DNA cannot give to succeeding generations something not is not already included in the information of life, makes a strong case for Creationism. Dr. Jobe Martin, an expert in this film, supplies his knowledge and vast experience to this program. The series ends with a message about the word of life. A bonus is included, a very brief segment on the behind the scenes activities in making this DVD.
Info
Company:
Exploration Films
Industry Rating:
Not Rated
Starring:
Narrated by Nick Jackson
Reviewer:
Edwin L. Carpenter