Treasure Bay
Theatrical Release:
December 12, 2006
DVD Release:
December 12, 2006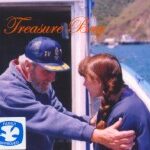 Synopsis
Abigail "Abby" Snow, 14, arrives from Arizonia to spend the summer working for her grandfather, Captain "Charlie" Snow, a decorated U.S, Navy veteran. She will be a deck hand on his charter boat "Thunder" in the Coastal California town of Treasure Bay, a port that has seen better days.
At about the same time Dr. James Swinton arrives to spend the last year of his grant money searching for the wreck of the "Santa Maria de Manila" , a Spanish treasure galleon rumored to have gone ashore nearby, heance giving the port its name. The outlook is hopeful because town resident Jerry "Jigline" Harrison, curator of the local museum, has found the galleon's bell.Then myteriously Spanish gold coins begin to appear in mailboxes for residence that are in need.
In the end, all is revealed regarding the missing galleon and its treasure!
Dove Review
Going to visit a Grandparent for the summer is always an adventure. This cute story takes everyone on a treasure hunt with a myterious turn. All will enjoy the beautiful coastal scenery as they watch this delightful story of Abby, Captain Charlie Snow and the eccentric residents of "Treasure Bay".
Info
Company:
Blue Ribbon Films
Industry Rating:
Not Rated