Gods Incredible Creatures – The Gift of Sharing (Illustrated)
Theatrical Release:
December 1, 2006
Book Release:
December 1, 2006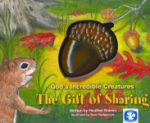 Synopsis
3D Board Book. Sammy the squirrel has just found the largest acorn ever…and he doesn't want to share it. On his quest to hide the acorn he meets a few of God's incredible creatures. Each one seems to have a special gift and soon Sammy learns that he too has gifts. Travel with Sammy as he discovers the gift of sharing.
This character building series, draws important lessons from nature. Sammy's quest will teach your child that everyone has been given important gifts in life. And gifts are for sharing.
Dove Review
A wonderful illustrated book for your youngsters. The entire family can enjoy this lovely story about sharing and the special gifts that the animals have recieved from God. Add this book to your special reading time with your children.
Info
Company:
Exploration Films
Industry Rating:
Juvenile