Happily NEVER After
Theatrical Release:
January 5, 2007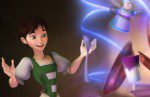 Synopsis
Inspired by the most beloved of fables, the animated film 'Happily N'Ever After' is a satirical retelling of the classic story of Cinderella.
Once upon a time in Fairy Tale Land, the age-old balance between good and evil has been thrown out of whack. Frieda, Cinderella's power-mad stepmother, has formed an unholy alliance of evil to take on the good guys. With her own fairy tale spinning wildly out of control, Cinderella (a.k.a. Ella) is forced to shed her damsel-in-distress trappings in order to seize control of her own destiny and lead the resistance without her Prince Charming.
In a world of happy endings gone wrong, the race for control of the kingdom is on, with the fate of the venerable storyline 'Happily N'Ever After' hanging in the balance.
Dove Review
"Be sure if you get what you want that you want what you get!" This is one of the themes of this nicely animated film which is cleverly written and should be a treat for kids. A few examples of some clever moments include Cinderella (aka Ella) winding up with a few different hairdos including that of "The Bride of Frankenstein," and "Heidi." This feature places a new spin on the "Cinderella" story with Rick, the prince's dishwasher and laundryman, falling for Cinderella, and his determination to prove himself as a real hero worthy of her love. There is a lot of action including witches flying on motorized brooms and a lot of great scenes which symbolize the age-old battle between good and evil. Cinderella's step-mother is truly a force to be reckoned with in this movie. Without giving specific endings away, the witches and other evil icons fall short of their goal. We recommend this film for all ages, with a note that it may be a bit intense for very young viewers. Most kids and many parents will enjoy the ride and we award the film four doves. Instead of being "Happily Never After," make the kids happy now and take them to see this movie!
Info
Reviewer:
Edwin L. Carpenter