Eragon
Theatrical Release:
December 14, 2006
DVD Release:
March 20, 2007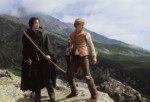 Synopsis
Before your grandfathers' fathers were born, and even before their fathers, the Dragon Riders were formed. To protect and guard was their mission, and for thousands of years they succeeded.
Though no enemy could destroy them, they could not guard against themselves. And it came to pass at the height of their power that a boy, Galbatorix, was born. At ten he was tested and it was found that a great power resided in him. The Riders accepted him as their own, and he exceeded all others in skill. Gifted with a sharp mind and strong body, he quickly rose among the Riders' ranks.
The Riders grew arrogant in their power and ignored caution. During a reckless trip Galbatorix and two friends were ambushed, his friends killed, and his dragon slain. For months he wandered, becoming more and more mad, until he was found unconscious by a kind farmer, and returned to the Riders' council.
When the Riders refused to grant him another dragon, Galbatorix grew mad with rage. Vowing revenge on the Riders, he began to hone his use of dark secrets, learned from a Shade. In the last bloody battle, Galbatorix gained dominance over all, and anointed himself king over all Analgesia. And from that day on, he has ruled. When Eragon finds a polished blue stone in the forest, he thinks it's the lucky discovery of a poor farm boy. But when the stone brings a dragon hatchling, Eragon soon realizes he has stumbled upon a legacy nearly as old as the Empire itself. Can Eragon take up the mantle of the legendary Dragon Riders? The fate of the Empire may rest in his hands.
Dove Review
This film comes to the border of not being Dove approved because of violence, but there is actually little blood that is shown in comparison to the many sword fights and battles. This is a fantasy film based on chivalry and dragons and sword fights, and so this should be taken into consideration. There is a good deal of fantasy violence in the film and we recommend it for ages twelve and above, with a strong caution and we ask parents to carefully check the content chart below. There are no language issues or sex issues or drugs-other than poison used by an evil character on another. The idea of good triumphing over evil is incorporated into the film. It is actually a pretty good story, although it did seem a bit choppy in parts and it felt as if there was more story to tell than the alloted time period could hold. We award this film four doves and once again strongly urge parents to check out the violence content in our chart below.
Info
Company:
20th Century Fox Home Ent.
Writer:
Peter Buchman and Lawrence Konner and Mark Rosenthal and Jesse Wigutow
Reviewer:
Edwin L. Carpenter