First Love-A Historic Gathering of Jesus Music Pioneers
Theatrical Release:
November 23, 2004
DVD Release:
November 23, 2004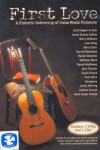 Synopsis
Out of the sex, drugs and turmoil of the 60's and 70's Hippy Movement came a move of God that swept America. The Jesus Movement was God's answer to the cry of young people desperately searching for love and peace. God used the language of that youth culture, their music, to revolutionize a generation.
Early in 1997, an historic gathering of music pioneers of the Jesus Movement took place at a mountain retreat in Southern California. In this intimate setting, each of them deliver stunning musical performances of their most popular songs. And each artist compellingly reveals their own personal experiences, challenges and music from those early beginnings of Jesus Music to the present.
Pastors, record company executives, artists and others add their perspective to the impact the music and ministry of these artists had on their generation and the influence it continues to have today.
Dove Review
This is somewhat of a musical time piece, as it updates the viewers on singers and musicians involved in the "Jesus" movement during the late 60's and 70's, during the tumultuous time of flower children, hippies, and people demonstrating against the Viet Nam War. The singers include Terry Clark, Barry McGuire, Churck Girard, 2nd Chapter of Acts, Jamie Owens Collins, Andrae Crouch, and others, as well as a Keith Green tribute.
The reality of the time of the Jesus Movement is shown with a very brief scene of a man smoking a joint and there are a couple of references to LSD and drugs, as well as historical events like the Cuban Missle Crisis and the assassination of President John F. Kennedy, Bobby Kennedy, and Martin Luther King Jr. However, this is all used in the context of the age and we see and hear these performers today and they reflect on how far God has brought them from that time to this. The music is great and although viewers who grew up in that time period would probably enjoy this DVD a bit more, this is something the entire family can watch and enjoy. It is truly a spiritual experience. This two-disc commemorative set also comes with two CDs of the music. We award this set five doves. This music is awesome and includes a nice variety of styles and slow and fast-paced songs.
Info
Company:
Exploration Films
Writer:
Steve Greisen and John Fischer
Reviewer:
Edwin L. Carpenter