Boz: Thank You God for B-O-Zs and 1-2-3s
Theatrical Release:
January 30, 2007
DVD Release:
January 30, 2006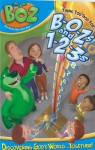 Synopsis
Drew and Gracie discover exciting ways that numbers and letters can help us explore God's world. Begin the countdown to F-U-N with B-O-Z!
Episode 1: O Say Can U C? The twins learn they can spell wonderful things in God's world after Boz sends them a special letter with the special letters in their names!
Episode 2: A Carnival of Counting! Count on lots of great adventures for Boz and all of his neighborhood friends at the First Annual Baxter Family Carnival!
Episode 3: B Nice 2 Each Other. A disagreement between Violet and Buster has Drew and Gracie choosing sides. Can Boz help the twins creatively work through their differences?
Dove Review
"Boz-The Green Bear Next Door." is entertaining for your youngsters once again. This time the cute lovable Big Green Bear will take children on an adventure that will show them that the letters in their name can be found around them in God's world. The viewer's little ones will enjoy the animation and fantastic songs. Boz will also teach them about numbers and settling disagreements. Every video is filled with great music, fantastic fun and delightful songs. Join Boz, Drew and Gracie as they sing, play and pray together.
Info
Company:
Exclaim Entertainment