Dreamgirls
Theatrical Release:
December 25, 2006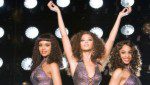 Synopsis
Director Bill Condon brings Tom Eyen's Tony award-winning Broadway musical to the big screen in a tale of dreams, stardom, and the high cost of success in the cutthroat recording industry. The time is the 1960s, and singers Effie (Jennifer Hudson), Lorrell (Anika Noni Rose), and Deena (Beyoncé Knowles) are about to find out just what it's like to have their wildest dreams come true. Discovered at a local talent show by ambitious manager Curtis Taylor Jr. (Jamie Foxx), the trio known as "the Dreamettes" is soon offered the once-in-a-lifetime opportunity of opening for popular singer James "Thunder" Early (Eddie Murphy).
Subsequently molded into an unstoppable hit machine by Taylor and propelled into the spotlight as "the Dreams," the girls quickly find their bid for the big time taking priority over personal friendship as ego-driven Deena gradually nudges out the less-attractive Effie in a blatant attempt to capitalize on her newfound fame. Now, as the crossover act continues to dominate the airwaves, the small-town girls with big-city dreams slowly begin to realize the true cost of fame may be higher than any of them ever anticipated.
Dove Review
"Dreamgirls" takes the audience into a facsimile of the world of Motown in the 60's. It reveals the underbelly of the recording business including payola schemes and the struggle black entertainers had to endure in the white-dominated pop music world.
Like the Broadway musical from which its adapted, its the singing that overshadows an otherwise strong and believable story and capable acting. Jamie Fox, Eddie Murphy and Beyoncé Knowles all give amazing musical performances. But, it's newcomer and American Idol competitor, Jennifer Hudson that steals the show. She has the chops to be the next Aretha Franklin. The soliloquies are musically stronger than the songs performed on stage.
Unfortunately, the subtext of the story contains adultery, drug and alcohol use, and some language that puts it outside Dove's approval. If you decide not to see the movie, I'd highly recommend the music soundtrack.
Info
Writer:
Bill Condon and Tom Eyen