Notes on a Scandal
Theatrical Release:
December 25, 2006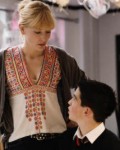 Synopsis
When Sheba Hart (Cate Blanchett) joins St. George's as the new art teacher, Barbara Covett (Judi Dench) senses a kindred spirit. But Barbara is not the only one drawn to her. Sheba begins an illicit affair and Barbara becomes the keeper of her secret. Based on the novel by Zoe Heller.
Dove Review
It is no surprise to me after seeing the extraordinary acting of Judi Dench and Cate Blanchett in this film that they both are up for Oscars. They give wonderful performances as the two St. George school teachers. While being slow at times, the manipulative nature of Barbara keeps your attention as you wonder what she plans to do next in her attempt to woo Sheba. Sheba makes judgment errors throughout the film which cause trouble for herself and those around her.
The adulterous storyline and repeated sexual encounters, not to mention the obscene and profane language, place this film in the "adult only" category. It is NOT family-friendly. It is nominated for four Oscars and I believe it will win in at least two categories.
Content Description
Sex: Woman has sexual relations with a 15 year boy. The sexual encounters are shown on screen several times.
Info
Company:
Fox Searchlight Pictures
Writer:
Patrick Marber and Zoe Heller