Freedom Writers
Theatrical Release:
January 5, 2007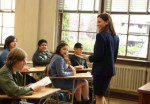 Synopsis
Assigned the thankless task of teaching freshman English at a gang-infested Long Beach, CA high school, a 23-year-old teacher resorts to unconventional means of breaking through to her hardened students in director Richard LaGravenese's adaptation of Erin Gruwell's best-seller The Freedom Writer's Diaries: How a Teacher and 150 Teens Used Writing to Change Themselves and the World Around Them. Her students had been written off, and her chances of succeeding scoffed at, but Erin Gruwell (Hilary Swank) wasn't about to go down without a fight. In using the writings of Anne Frank and Zlata's Diary: A Child's Life in Sarajevo, Gruwell was able to teach her students not only the basis of the English language, but compassion and tolerance as well.
Dove Review
This fact-based story of Erin Gruwell (Hilary Swank) and her devotion to her Long Beach, California, class is pretty amazing. There is no sentimentality in this story and yet the viewer feels for these students and the tragedies they have endured-tragedies of gang-related deaths and a neglect at home of many of these kids. Gruwell finds a way to relate to the students, many of which have an African-American, Latino, and Aisan background. She manages to get them involved in writing their own journals, visiting a Holocaust Memorial, reading Anne Frank's diary, and they even bring in Miep Gies, who helped Anne Frank and her family hide.
Unfortunately, despite the efforts of "realism" by the filmmakers, the film crosses the line by using very strong language, and violence. We unfortunately cannot award our Dove Seal to this otherwise dramatic and gripping true story.
Info
Reviewer:
Edwin L. Carpenter