Perfume: The Story of a Murderer
Theatrical Release:
January 5, 2007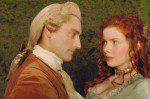 Synopsis
"Perfume" focuses on Jean-Baptiste Grenouille, a weird young man who is born into filth and poverty, amid the guts and vomit of an open-air French fish market. Although he has no human scent of his own, Grenouille's sense of smell can penetrate people's skin. He's attracted to the female scent, but not in a sexual way; he wants only to bottle it. When Grenouille meets fallen (but still legendary) perfumer Giuseppe Baldini, the younger sets out to titrate the most elusive perfume known to man: female pheromones. The problem is that women won't stay long enough for Grenoiulle to capture their scent, so the young man ends up killing them.
Dove Review
"Perfume" tells the story of an unusual murderer, who is obsessed with permanently capturing the scent of the human body, specifically the bodies of young women. He murders women by hitting them on the head with a club, then covers their hair and bodies in animal fat, which he later scrapes off and distills, creating a perfume. When he unleashes his new perfume upon a large group of people, it supposedly smells so wonderful that anyone who smells it is filled with love for all mankind. What ensues is a huge orgy, in which hundreds of men and women have intercourse. Needless to say, this is a strange movie. It is not particularly gory, but it contains enough nudity, as well as the orgy scene, so that "Perfume" is not approved by Dove. Also, in another scene, a priest damns a murderer to hell.
Info
Writer:
Andrew Birkin and Bernd Eichinger and Tom Tykwer