Miss Potter
Theatrical Release:
January 12, 2007
DVD Release:
June 19, 2007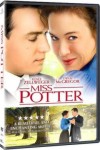 Synopsis
The true story of the woman who created some of the most beloved characters in children's literature comes to the screen in this drama leavened with elements of comedy and romance. Beatrix Potter (Renée Zellweger) is an imaginative but gently eccentric woman living in the socially and intellectually confining circumstances of Victorian England. Potter's wealthy parents are eager for her to marry a successful man and settle down, but she has ideas of her own, and has been writing and illustrating a series of stories for children centered around a character she calls Peter Rabbit.
Dove Review
This is a wholesome yet dramatic film which imaginatively tells the story of Beatrix Potter, the famous author and illustrator who began her career in the early 1900s. "The Tale of Peter Rabbit" was published in 1902. The filmmakers use some clever devices which will amuse kids and the young at heart. Potter speaks to her illustrations such as her rabbit or duck, and the film's animators have the characters respond by winking, smiling, and so forth. Yet the very young might become bored with the story, which is a period piece and includes a romance between Potter and her publisher, Norman Warne. Potter's well-to-do family is against her marrying Norman and fate steps in as Beatrix travels with her parents for a summer's vacation, with the plan to return at summer's end to marry Warne.
This film has no bad language, the worst being the term "crapped out" in reference to an animal. There is a brief drinking scene with no one becoming intoxicated. It was a breath of fresh air to view this film, supported by strong actors in Renee Zellweger and Ewan McGregor. The landscapes and cinematography in this film are outstanding. There are some nice moments of humor too. For example, Norman realizes his brothers don't have much faith in the book, and he says to Beatrix, "We'll give them a bunny book to contend with!" We recommend the movie for the entire family, with the aforementioned note that the very young might find it to be a bit slow moving. We award this wholesome film five doves, our best rating. Hop on down to a theater with your family and see it!
Info
Company:
The Weinstein Company LLC
Reviewer:
Edwin L. Carpenter