Curse of the Golden Flower
Theatrical Release:
January 12, 2007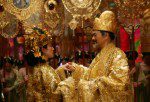 Synopsis
China, Later Tang Dynasty, 10th Century. On the eve of the Chong Yang Festival, golden flowers fill the Imperial Palace. The EMPEROR (Chow Yun Fat) returns unexpectedly with his second son, PRINCE JAI (Jay Chou). His pretext is to celebrate the holiday with his family, but given the chilled relations between the Emperor and the ailing EMPRESS (Gong Li), this seems disingenuous. For many years, the Empress and CROWN PRINCE WAN (Liu Ye), her stepson, have had an illicit liaison. Feeling trapped, Prince Wan dreams of escaping the palace with his secret love CHAN (Li Man), the Imperial Doctor's daughter. Meanwhile, Prince Jai, the faithful son, grows worried over the Empress's health and her obsession with golden chrysanthemums. Could she be headed down an ominous path?
Dove Review
This subtitled film has an interesting story line, some colorful sets and costumes and some cool special effects. It showcases a ruthless Emperor and his family living in a luxurious palace with servants to attend to every need and detail of their lives. There are many secrets being kept by family members and one by one they are revealed. "The Curse of the Golden Flower" keeps you interested, despite having to read the subtitles, because of story and the wonderful costumes. There are beautiful sets and costumes throughout the film. Unfortunately, Sony Classics goes overboard on the violent nature of the film showing much of it in graphic detail filling the screen with blood and killing. Because of this and the sexual relationships with many of the characters, Dove cannot recommend this film to family audiences.
Info
Company:
Sony Pictures Home Entertainment
Writer:
Yu Cao and Yimou Zhang