Arthur and the Invisibles
Theatrical Release:
January 12, 2007
DVD Release:
April 10, 2007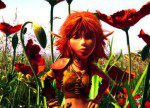 Synopsis
Deep underground, the Minimoys are waiting… for a champion. Arthur's grandfather disappeared four years ago. All he left behind are his notebooks full of stories about little — known African tribes-including the Minimoys, a miniature people who are all less than one inch tall. But the Minimoys can't possibly be real… can they?
Arthur is about to find out, as he uncovers a hidden message that catapults him on an adventure wilder than he had ever imagined. In just three days, he must find a way to the land of the Minimoys, recover a stolen treasure, battle an invading force of mosquito — riding warriors, defeat an evil wizard, win the heart of a very independent princess (Madonna)-and somehow get back home again.
It seems like an impossible task, but as he'll discover along the way, sometimes the littlest heroes can make the biggest difference.
The film is adapted from a series of children's books written by Luc Besson.
Dove Review
Based on a series of children's books, this movie takes you on a fantasy adventure with a young boy that wants to save his granny's home and find his grandfather. "Arthur and the Invisibles" is a combination of "Honey, I Shrunk the Kids", "Sword in the Stone" and "A Kid in King Arthur's Court". He travels into the small world though a moon-lit portal door that is opened by 3 turns of the ring of the telescope; once each for the body, mind and soul. There he helps the Minimoys save their world along with his.
Mixing animation with live action is cute but this film could have used something to make it more adventurous. There are no hidden surprises. You will find it slow at times, leaving the kids restless. But, after everything is said and done, this is a movie for everyone. I do have to mention that some of the animated characters in Minimoy's world are scantily dressed in African tribe attire and the Princess shows her midriff – none of the costumes are out of the ordinary for the characters who wear them.
Info
Company:
The Weinstein Company LLC
Writer:
Luc Besson and Céline Garcia
Director:
Luc Besson Luc Besson