Eloise: Eloise in Springtime: Episodes 12 and 13
DVD Release:
December 1, 2006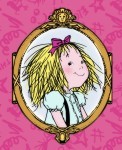 Synopsis
Eloise the Animated Series:With New York City's Plaza Hotel as the backdrop, ELOISE lives a life many children would envy; she is the unofficial reigning princess of New York's Plaza Hotel. Her vivid imagination and endless supply of energy guarantee that she is always moving and never bored. She defines New York the way MADELEINE defines Paris; and the characters occupying Eloise's world are a true representation of the social strata in New York City.
The stories primarily takes place at the Plaza, a meeting place for all kinds of people. Despite this rather highbrow residence; from the blue bloods in the penthouse to the blue collars in the basement, Eloise has an ability to cut to the chase and connect with people on a deeply human level – always in typical Eloise fashion.
Hilary Knight's beautiful drawings will provide the back bone for the art direction of Eloise. Rendered in 2D to emulate the captivating style of its illustrator the animation will bring the illustrations to life; translating the line style, the pinks and blues and yellows of a world as seen through the eyes of our active six year-old girl. As if that weren't spectacular enough m the action will skitter along with Eloise, from room to room, up down , around over and through the halls and halls of the Plaza.
Dove Review
Eloise sure loves spring. The birds, the flowers and a new found love, love everything about spring she loves. Eloise learns some valuable lessons in this episode about things not always being what they seem. What you see is not always what you think it is. And lying is wrong no matter why or how it is done. Eloise makes two big mistakes hurting several people in the process, but goes out of her way to make them right again. Eloise Is great at learning from her mistakes and she always shows how to make things right again. These shows are wonderful, fun and great in showing how to make up for mistakes that you have made. They all have lessons that are easy to learn from and children can learn some great things from these shows.