Tugger: The Jeep 4X4 Who Wanted to Fly
DVD Release:
July 15, 2005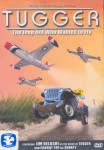 Synopsis
Who is Tugger? Tugger is a jeep, and the star of this new animated movie. This movie follows Tugger through his daily job of tugging aircraft around a small airport. Of course everyone knows that jeeps can't fly, right? Well, usually you'd be right, but you see, Tugger is special. That's because during World War II, Tugger was badly injured and a G.I. mechanic replaced his engine fan with a real airplane propeller. Since that fateful day, Tugger has had only one dream, to one day fly like a real airplane.
Dove Review
"Tugger" has fantastic CGI animation. It also has great characters such as Tugger the jeep and Bob the airplane. Each character stands out in some way which is no easy task. It has humor too. The chief at the airport is trying to direct some vehicles to move and he falls in the snow and it is done in such a way that it is funny.
Tugger the jeep has a dream to fly but he has much to overcome. Will he realize his dream in the end? This video is Dove approved for all ages.
Info
Company:
Eternal Pictures Inc.
Starring:
Voices: Lance Legault,
Tom Kinney
,
Peter Renaday
,
Wendy Culter
,
Robert Clotworthy
,
Steve Bulen
,
Newell Alexander
,
James Belushi
,
Bridget Hoffman
,
Rif Hutton
,
Edie Mirman
,
Michael Sorich
, Scott "Carrot Top" Thompson
Reviewer:
Hannah Randolph