Bridge to Terabithia (2007)
Theatrical Release:
February 16, 2007
DVD Release:
June 19, 2007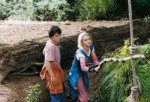 Synopsis
An 11-year-old boy's life is changed forever when he befriends the class outsider—who happens to be a girl. Together Jess (Josh Hutcherson) and Leslie (AnnaSophia Robb) create the world of Terabithia, an imaginary kingdom filled with giants and trolls and all manner of magical beings.
While the real world of family and school may be filled with difficulties, in Terabithia they rule as King and Queen. When an unexpected tragedy occurs, one of them will have to pull all the strength possible from the great legacy of Terabithia.
Based on the Newbery Medal-winning novel by Katherine Paterson.
Dove Review
Young Jess and Leslie meet in school and soon learn they have several things in common, including a need to explore their imaginations. Leslie's family has just moved in next door to Jess. Soon the two are inseparable and off to a wooded area that becomes a fantasy land of their own making called, "Terabithia." There the two of them fight hairy vultures, living trees and other creatures. There is a tragic twist in the film which is handled gently and appropriately. Jess doesn't have a close relationship with his dad and he yearns for that. Until that time comes, he loses himself along with Leslie in Terabithia.
So, close your eyes and keep your mind wide open! Travel to Terabithia, where anything is possible.Terabithia is an imaginative adventure for the family. We recommend this film for ages twelve and above, due to thematic elements.
Info
Writer:
Jeff Stockwell and David Paterson
Reviewer:
Edwin L. Carpenter