Travel With Kids-Hawaii: The Island of Kauai
Theatrical Release:
January 30, 2007
DVD Release:
November 14, 2006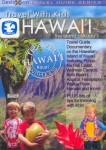 Synopsis
Join the Roberts family as they explore the Hawaiian Island of Kaua'i in the award-winning Travel With Kids series. Travel With Kids-Hawaii: The Island of Kaua'i presents history, culture and family fun in a kid-friendly format. Learn old Polynesian tales on the Waiiua River, explore Kaua'i's dramatic nature along the Na Pali Coast and Waimea Canyon and find out how Kaua's was formed at the CHildren's Discovery Museum. Travel With Kids-Hawaii: The Island of Kaua'i takes viewers on a culinary journey at a seaside luau, heads off-the-beaten-path on Kauai's north shore, ventures through the forest at the Fern-Grotto and much more. The Roberts family also shares tips on traveling with children, from what to pack to pre-trip activities to delight all ages. Explore, relax and enjoy. Destination: Kaua'i.
Dove Review
This is another in the series of Travel With Kids. Young Nathan, five, and his younger brother Seamus, three, travel with their parents to such exotic locations as Koloa, Kapa'a, and Hanalei. The famiy attends a luau, watch beautiful dances including the Chinese Dragon Dance and Fire Dance, and even eat hamburgers at one spot which serves food not associated with Hawaii. The beautiful locales and events are worth seeing. We recommend it for all ages in the family and we award this DVD five doves.
Info
Director:
Jeremy Simmons and Carrie Simmons
Producer:
Equator Creative Media LLC
Industry Rating:
Not Rated
Starring:
Narrated by Larry Miles
Reviewer:
Edwin L. Carpenter